Lars and the Real Girl
(2007)
Lars and the Real Girl
IMDB:

7.3
Genre
Directed by
Cast
Ryan Gosling, Emily Mortimer, Paul Schneider, R.D. Reid, Kelli Garner, Nancy Beatty, Doug Lennox, Joe Bostick, Liz Gordon, Nicky Guadagni, Patricia Clarkson, Karen Robinson, Maxwell McCabe-Lokos, Billy Parrott, Sally Cahill
Annotation
In this comedy, Lars Lindstrom is an awkwardly shy young man in a small northern town who finally brings home the girl of his dreams to his brother and sister-in-law's home. The only problem is that she's not real - she's a sex doll Lars ordered off the Internet. But sex is not what Lars has in mind, but rather a deep, meaningful relationship. His sister-in-law is worried for him, his brother thinks he's nuts, but eventually the entire town goes along with his delusion in support of this sweet natured boy that they've always loved.
Larss un meitene
Ларс и настоящая девушка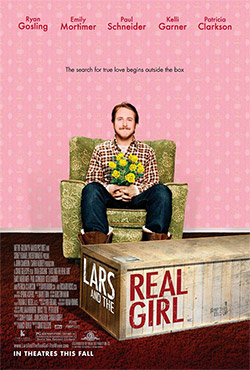 ©
2007 Metro-Goldwyn-Mayer Studios Inc.
Watch movie trailer
Pictures