Happy New Year, moms!
(2012)
Happy New Year, moms!
IMDB:

6.6
Genre
Directed by
Artyom Aksenenko, Sarik Andreasyan, Anton Bormatov
Cast
Karen Badalov, Anna Banshchikova, Elizaveta Boyarskaya, Luiza-Gabriela Brovina, Alain Delon, Agniya Ditkovskite, Daniil Filenko, Aleksey Grishin, Svetlana Ivanova, Evgeniya Kaverau, Garik Kharlamov, Ekaterina Klimova, Konstantin Kryukov, Max Matveev, Kseniya Popovich
Annotation
The film anthology "Happy New Year, Moms" will be as sequel of film "Moms". In the new film, viewers will see new stories and new adventures, new characters, united by a feeling - love to your mother. The anthology will include 5 novels. Funny and touching, lyrical and comic - each novel tells the story of mother and child, two of the closest people in the world. After all that happened, mother is always the person who will love you forever and no matter what.
Laimīgu Jauno gadu, mammas!
С новым годом, мамы!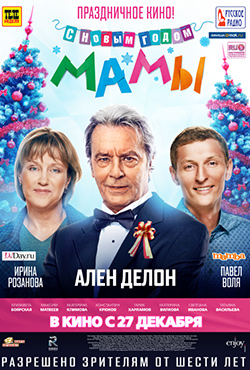 Watch movie trailer
Pictures