Sharknado 3: Oh Hell No!
(2015)
Sharknado 3: Oh Hell No!
IMDB:

4.1
Genre
Action and Adventure
Horror
Thriller
Adventure

Directed by
Cast
Ian Ziering, Tara Reid, Cassandra Scerbo, Frankie Muniz, Ryan Whitney Newman, David Hasselhoff, Mark Cuban, Bo Derek, Blair Fowler, Michael Winslow, Jack Griffo, Michelle Beadle, Ne-Yo, Chris Jericho, Mark McGrath
Annotation
When Fin and April go to Florida for the summer vacation, strong winds and lots of rain comes to Florida and a Sharknado comes and destroyes Florida. The Sharknado goes to Washington D.C. and sharks falling from the sky. It's up to Fin and April to stop the Sharknado the third time.
Sharknado 3: Svētie bambāļi!
Акулий торнадо 3: Это конец!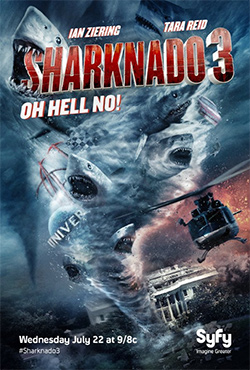 Watch movie trailer
Pictures