Hoodwinked!
(2006)
Hoodwinked!
IMDB:

6.5
Genre
Directed by
Cory Edwards, Todd Edwards, Tony Leech
Cast
Anne Hathaway, Glenn Close, Jim Belushi, Patrick Warburton, Anthony Anderson, David Ogden Stiers, Xzibit, Chazz Palminteri, Andy Dick, Cory Edwards, Benjy Gaither, Ken Marino, Tom Kenny, Preston Stutzman, Tony Leech
Annotation
Little Red Riding Hood: A classic story, but there's more to every tale than meets the eye. Before you judge a book by its cover, you've got to flip through the pages. For this story, we begin at the end. Furry and feathered cops from the animal world investigate a domestic disturbance at Granny's cottage, involving a girl, a wolf, and an axe. The charges are many: breaking and entering, disturbing the peace, intent to eat, and wielding an axe without a license. Not to mention, this case might be tied to the elusive "Goody Bandit" who has been stealing the recipes of goody shops everywhere.
Sarkangalvītes jaunie piedzīvojumi
Правдивая история Красной Шапки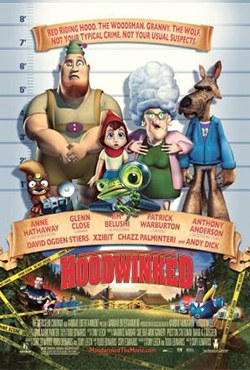 Watch movie trailer
Pictures