Grandpa More Dangerous Than Computer
(2017)
Grandpa More Dangerous Than Computer
Genre
Directed by
Cast
Mārtiņš Vilsons, Markuss Jānis Eglītis, Akvelīna Līvmane, Eva Ozola, Mārtiņš Meiers, Uldis Dumpis, Lauris Dzelzītis, Alise Polačenko, Inese Pudža, Vizma Kalme
Annotation
A film for the whole family. 8 year-old Oskars' summer vacation in the countryside begins as a seemingly never-ending struggle with his Grandpa, but what then turns into a solid friendship allows the men to rescue Grandma from her former student's scheme.
Vectēvs, kas bīstamāks par datoru
Дедушка, который опаснее компьютера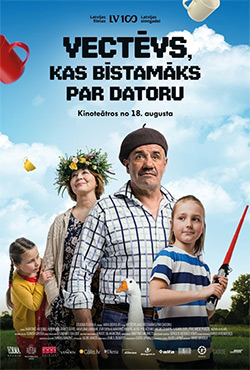 ©
2017 Studija F.O.R.M.A.
Watch movie trailer
Pictures