C'est la vie!
(2017)
C'est la vie!
Genre
Directed by
Olivier Nakache, Eric Toledano
Cast
Jean-Pierre Bacri, Jean-Paul Rouve, Gilles Lellouche, Vincent Macaigne, Eye Haidara, Suzanne Clement, Alban Ivanov, Helene Vincent, Benjamin Lavernhe, Judith Chemla, William Lebghil, Kevin Azais, Antoine Chappey, Manmathan Basky, Khereddine Ennasri
Annotation
Max has been working as an organizer of events for more than thirty years. And he's the best! Max organized hundreds of the feasts and he has a desire to rest from all this. But first he needs to fulfill one more order - to arrange a luxurious wedding for Pierre and Helena in the XVII century estate... But, as luck would have it, the mistakes one after another start to fall, menacing to destroy the most beautiful moments of the feast, and turn the ideal plan into chaos and catastrophe.
Tāda ir dzīve!
Праздничный переполох
Le sens de la fête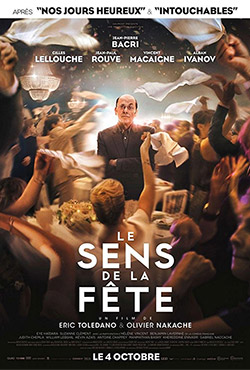 Watch movie trailer
Pictures